At Food Democracy Now!, we believe it's time to end Monsanto's campaign of fear and intimidation against America's farmers! Join us to stand up for America's family farmers and the integrity of our food and agricultural heritage.
A Brief History: OSGATA vs Monsanto
Family farmers and farm organizations originally filed a lawsuit against Monsanto in March 2011 in an effort to invalidate Monsanto's patents and protect organic and non-GMO family farmers from unwanted genetic contamination of their crops and from Monsanto's aggressive patent infringement lawsuits.
Monsanto filed a motion to dismiss the case, which was heard in Federal District Court in New York City on January 31st, 2012. In February 2012, Federal Judge Naomi Buchwald dismissed the case, ruling that the farmers lacked legal standing regarding the concerns over genetic contamination and resulting economic harm.
In March 2012, Plaintiffs appealed the District Court's decision to the Court of Appeals for the Federal Circuit, which scheduled oral argument in the case to be heard on January 10, 2013.
Lawyers from the Public Patent Foundation, who are representing the farmers have identified numerous reversible legal and factual errors committed by the judge which they assert caused her to mistakenly dismiss the case.
What's at Stake
OSGATA vs Monsanto is a landmark legal case attempting to protect family farmers from Monsanto's aggressive patent infringement lawsuits and unwanted genetic contamination that results when Monsanto's patented, GMO pollen blowing across farmer's fences and contaminates their crops against their wishes. In an effort to enforce their legal patents on their genetically engineered genes, Monsanto regularly sends their seed police out in rural America to trespass on farmer's fields and steal their plants to take them back to their labs for testing.
Since 1997, one year after the approval of Monsanto's GMO Roundup Ready soybeans, the world's leading chemical and biotech seed company admits to filing 150 lawsuits against America's family farmers, while settling another 700 out of court for undisclosed amounts. During this time, Monsanto has investigated an average of more than 500 family farmers each year.
Due to these aggressive lawsuits and investigations, Monsanto has created an atmosphere of fear in rural America and driven dozens of farmers into bankruptcy.
Journal Retraction of Séralini Study is Illicit, Unscientific, and Unethical
By GM Watch,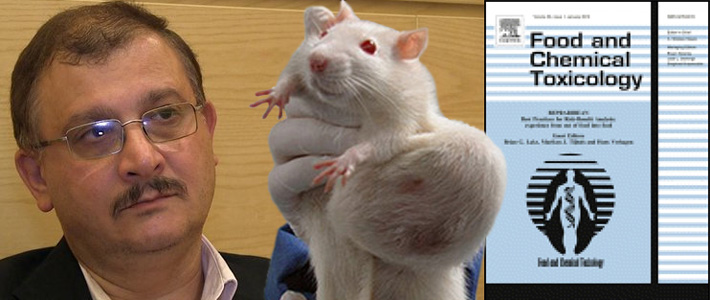 Editor's decision violates scientific publication ethics.

Journal retraction of Séralini study is illicit, unscientific, and unethical
Statement by GMWatch
The ...
Canada's Approval of GMO Salmon Eggs Threatens Environment, Experts Say
November 25, 2013. Ottawa. Canada's approval of commercial production of genetically modified (GM) Atlantic salmon eggs is an alarming decision that sets Canada up ...
COMMENTS
Gaining Ground on Fight to Label Genetically Engineered Foods
By Ronnie Cummins,
Twelve months after narrowly defeating our organic and natural health movement in an expensive and bitterly fought California ballot initiative to label ...
COMMENTS
Don't Let the FDA Destroy Organics: Act Today!
If you think being forced to eat Monsanto's unlabeled GMOs is an outrage, what would you say about having the same man who wrote ...
COMMENTS
Scientists Say 'No Consensus on GMO Food Safety'
By Kaye Specter,
An international group of more than 90 scientists, academics and physicians released a statement today saying there is no scientific consensus on ...
COMMENTS
Junk Food Lobbyists Sued for Money Laundering in Washington State
By Michele Simon,
Effort to Hide Brand-Name Corporations Opposing GE Food Labeling Lands in Court
In the final weeks leading up to Election Day, the ...
COMMENTS
Attorney General Ferguson files suit against Grocery Manufacturers Association
AG alleges association skirted disclosure rules in $7.2 million contribution to No on Initiative 522 campaign
SEATTLE– Attorney General Bob Ferguson today filed suit ...
COMMENTS
Will Hawaii's Big Island Ban GMO Farming?
By Kaye Spector,
The Big Island of Hawaii County Council is expected to consider a bill on Wednesday, Oct. 16 that would prohibit all open-air ...
COMMENTS
Tell Hawaii's leaders to Stop Poisoning Paradise! Pass Bill 2491 and Bill 113
Tell Hawaii's leaders to Stop Poisoning Paradise!
Last night we received an urgent email from a Food Democracy Now! member in Hawaii asking for ...
COMMENTS
Tell NH to Label GMOs - Important Committee Meeting!
Since August, legislators in the New Hampshire House Environment and Agriculture Subcommittee have been meeting every week to study whether or not to require mandatory ...
COMMENTS